Online coaching provides me with a platform to hold you accountable to your fitness objectives and it is this very sense of accountability that will lead you to achieving them and hopefully to having a positive knock-on effect in other areas of your life!
 
It's much more than just buying a plan and hoping to stick to it. The training and diet programme is completely personalised to you and will take into account your own feedback and specific results. I will guide you and be there to support you every step of the way so that together we are able to improve all aspects of your health regime and have you enjoying the road towards your goals.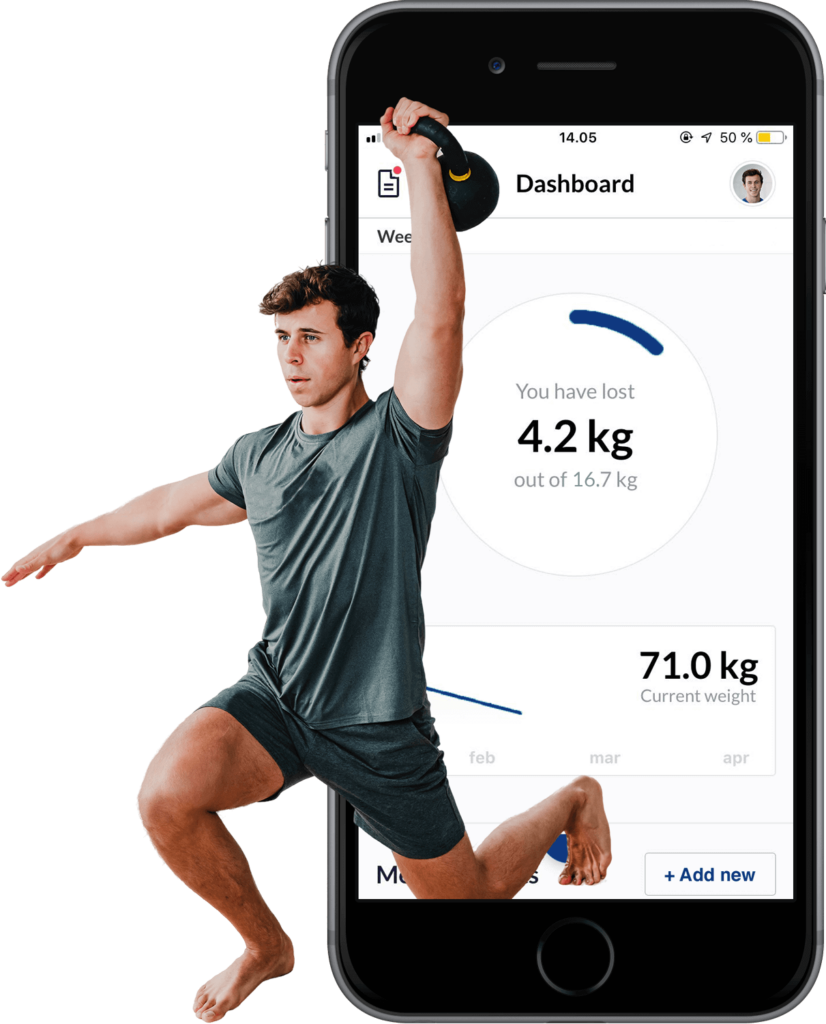 I will coach, support, educate and guide you through your customised training and diet programmes. Direct communication and regular feedback from me mean together we are able to improve all aspects of your health regime whilst following the best and most enjoyable plan ensuring you are in the greatest position to achieve the results you are after.
I will provide you with a completely personalised training and meal plan based on your specific fitness goals, foods you actually enjoy and a diet you can sustain so that you are following the best and most enjoyable plan to achieve your desired goals.
There by your side both in and outside of your 1-1 training sessions. From coaching technique, to monitoring performance to instant feedback, this is a chance for you to work harder than you would on your own. You will learn correct form so you are working optimally and without risk of injury. Nutrition guidance is also included.
Whether it's to host a live workout class or to appear as a guest speaker at events no matter how big or small, my expertise on all things health, fitness and industry truths mean I regularly talk to audiences educating and informing them of the right way to do fitness and the truths around being healthy and living an active lifestyle.




Isabel
I started training with James about six months ago and have noticed a remarkable difference in my training. Obviously when embarking on PT sessions, the client is required to state what they want to get out of the training, however James gets to know his clients so well that he almost knows what you want better than you do yourself. He will always make an effort to stay in touch in between training, ensuring that each session is always challenging and varied.
James is incredibly professional, knowledgable and motivational and instils a great amount of self-belief in his clients which is something so many PTs lack. It is almost as though he is like one of those teachers at school for whom you had a great deal of respect and, as such, always got the best possible out of you.
I would recommend James to anyone looking to improve their fitness, work towards a specific goal or expand their knowledge of weight training. I have thoroughly enjoyed all my sessions and have learnt the hard way that consistency really is everything!
Ellie
I've been training with James for a little over three months now and have already noticed a difference in myself both physically and mentally.
James is thoroughly professional and with clear instruction challenges me to work towards specific goals, for me these are centred around improvement in two disciplines, running and cycling. I wanted to improve my speed and my strength, both of which have change positively in the last 3 months. 
James has taught me how to exercise correctly whilst maximising my results, he has a good balance between motivation and support in pushing you to achieve your optimal results. James has altered my apprehensive and somewhat negative attitude about weightlifting and functional exercise. He understands my goals and initial reservations and with a clear, concise approach has given me back confidence I was lacking.
James's has the ability to bridge the disconnect between personal trainer and client with both empathy and experience. Being invested in a clients progress necessitates a mixture of support, encouragement, education, motivation and inspiration, of which James has all. I think that James leads by example, part coach, part motivator, part educator, part nutritionist and part inspiration.
Alex
I initially signed up with James to further my knowledge of training and learn knew exercises to the ones I already knew. It has now become so much more than that. The training itself is challenging, fun and most definitely pushes me to my limits. James is encouraging in and outside of the gym and I know if I ever need anything he is more than happy to help and answer any questions I may have. I can't imagine my week without him! 
Foti
I have been training with James for 12 weeks, twice weekly. James has a thorough knowledge of the body, and this shows when it comes to the training. There is an open dialogue with him about goals, injuries, strengths and weaknesses, allowing him to adapt your program accordingly. There is detailed explanation as to the purpose of each exercise as well as stretching before and afterwards to increase performance and reduce the chances of injury. I have found this to be highly useful, the flexibility in program has allowed me to carry out my own training independently and work on weaker areas with James, his knowledge of training has allowed me to increase my performance on weekly basis as well as my flexibility. The variety of exercises that we do make it the workout more engaging and less repetitive. I am enjoying training with James and looking forward to progressing further with my fitness.
Maya
I have been training with James now for a year. When I first started I didn't really know much to be fair. The first sessions where really hard but as we continued the training I loved it. James is so motivating and I honestly could not have asked for a better personal trainer. He showed me how to do exercises safely, with the correct form and was extremely motivational. I look forward to the training sessions and my knowledge in fitness has health has increased massively. James gave me a workout program I would follow for the days that I was not training with him and would keep in touch throughout the week to see how I was getting on. Honestly, compared to how I was a year a go to now – it's incredible to see the difference. Living a healthy life and exercise has become my normality now and I don't see it as a chore. I do it because I love it. Training with James even inspired me to do my personal training qualification which I have now completed – having my sessions with James is one of the best things I have personally invested in and I couldn't have asked for a better trainer.
I am a London-based health and lifestyle coach helping people to achieve their fitness goals and live healthier, happier lives. I pride myself on my direct and honest approach in an industry where there is a lot of nonsense and misinformation. I am all about providing the truth when it comes to leading a healthier lifestyle. I grew up playing high level rugby and my dream was to be a professional, but now I am using my expertise and passion for health and fitness to inspire thousands to want to live more active lives. My online programme the "JM Movement" has already seen thousands transform their lives for the better and I am only just getting started! I am a firm believer that being healthy and active plays a huge role in contributing positively to all other areas of life from work to relationships and that enjoying the process rather than focusing on the end goal is what will make the results come and last a lifetime. I am here to help anyone who wants to achieve their goals, no matter what age, background or experience.
My online coaching provides you with everything you need to achieve your goals. I will create a bespoke training programme based on your needs, a diet plan that can you can enjoy first and foremost and that suits your tastes and lifestyle whilst also giving you everything you need to hit your goals. Unlike many other coaches, I will also be there 24/7 helping you along the way. Any questions you have, honest advice you need or even just a bit of motivation, I am here to help you, because I want you to achieve your goals just as much as you do!